Yesterday I made the effort to check out some new trails outside of the city. Previously I pretty much stuck with the trails on the LU campus and the adjoining conservation area but had a run in with a XC skier who gave me shit for running on the ski trails. It was really a shame because it's quite beautiful out there and it doesn't seem right to me that one group can monopolize the trails. Well the confrontation encouraged me to check out some new trails around the city. I drove out to Lively, past the Vale Inco mines in Copper Cliff to the Hillfield trail which connects to Kelly Lake trail. I haven't gone to the end and hope to see if it goes closer into town, and if so, I cold run to the trailhead instead of driving once my runs get a bit longer. Today I drove out to Capreol, about 45 min. away where there is apparently a 10kish trail parallel to some ski trails. But I got lost a bit, and when I eventually found the trails they were totally un-runnable - too much snow with big holy footprints in them - a great place to twist an ankle. Total bummer. So I returned to Lively instead.
Regardless, yesterday and today were great runs. The sun was out and it was -5 or so, so not as hard to get out the door. And also a light dusting of fresh sparkly snow - beautiful. But the thing that has really made my runs great, especially today, is that my running partner has returned! My dog Clover had to stay in Kingston when we moved here last August. Luckily we had found a wonderful couple to take care of her (on Dog Lake no less) but I was missing her terribly. But we moved out of our apartment into a house so we were able to bring her up. So it's nice to have a companion again on the trails.
As I was running with her today I had thought back to the first time I brought her camping with me at Frontenac Provincial Park. I was going on a solo backcountry trip for a week just her and I. I had bought her a little doggy backpack. She was only about a year or two of age (she's 8 or 9 now) and not fully trained off leash but I thought in the middle of nowhere would be okay to take her off leash and see how it goes (bad move). Well every time she heard a squirrel (which was every 2 minutes) she would bolt into the woods and chase after it. Once she went deep into the woods for what seemed like forever and eventually came back, but her backpack was gone. It's still out there somewhere with a deck of cards and Bryce Courtnay's The Potato Factory (let me know of you find it). Well she took off again chasing after some wild animal and we thought we had lost her for good. We waited and called her for over an hour but she never came back. I didn't know what to do. My husband had hiked in with me but was going to head back while I set out on my trip. So he went back and I headed to the campsite totally worrying about her, thinking I had lost her. The next day I hiked back to the trail centre and called my husband who tells me she was waiting by the car for him! I was so happy that she found her way back but also bummed that she wasn't going to be on this camping trip with me.
Well she's gotten much better off leash now, which is good because apparently if a dog goes and chases something in the woods and comes across a bear that decides to go after it, the dog will bring the bear right back to the owner. And that's not good. Not good at all. Regardless, I know some people get upset over dogs off leash but I just don;t think it's right to have them tied up all the time. Maybe I shouldn't 'go there'.
So anyway, it's nice to have a training partner again and while she won't be running 100 miles, it'll be nice to have company on the shorter runs.
So here's a few pictures from our run today:
At the trailhead:
Nice flat section: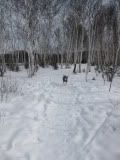 Can't go far in Sudbury without seeing some of these:
A lovely birch grove: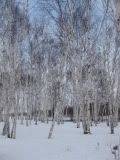 Ran along this creek: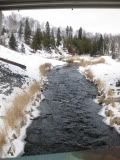 She was getting impatient with me here - she just wanted to run, not sight see: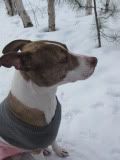 That's it for now!
See you in the forest!